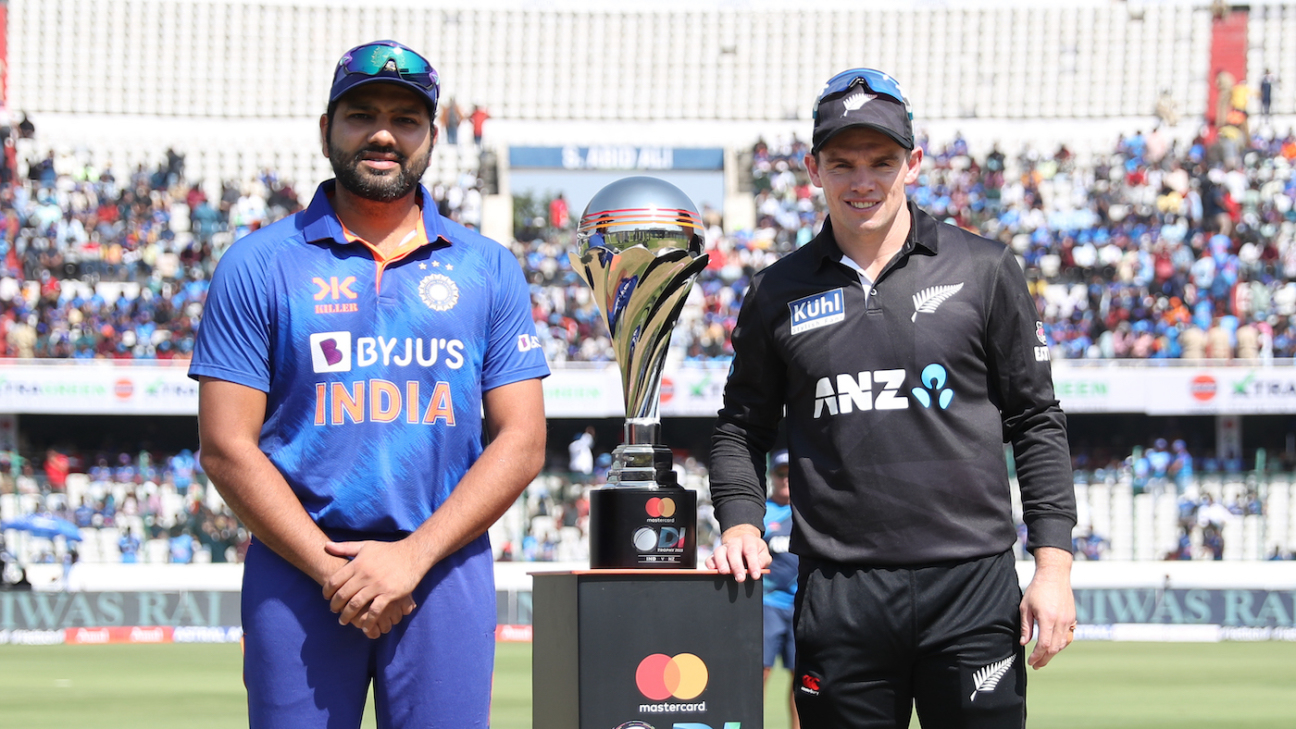 Saurabh Nigam: "Three spinners in the Indian team, is it that kind of wicket or Rohit testing how spinners fare with dew?" Most likely the second
Aditya: "Was really hoping to see KS Bharat play today considering he (most probably) will don the gloves for the tests vs Australia. Some game time against an international opposition would have helped his confidence a fair bit. "
Kb: "Glad Duffy is getting a chance here. I really wish Chapman had got a chance to instead of Nicholls. Chapman if given enough experience in playing these conditions can be a good back-up for Williamson in case the latter gets injured during the world cup. "
Santner: I like to mix things up and not be predictable. It's trying to be smart and using the bigger pocket, if there is any. Being captain for T20Is is a cool experience, it's a crazy cricketing country. It's going to be exciting and nervous.
1pm NZ win the toss and will bowl. Short boundaries and dew later on are the primary reasons for that. One change: Jacob Duffy comes in for Shipley
New Zealand: 1 Finn Allen, 2 Devon Conway, 3 Henry Nicholls, 4 Daryl Mitchell, 5 Tom Latham (capt & wk), 6 Glenn Phillips, 7 Michael Bracewell, 8 Mitchell Santner, 9 Jacob Duffy, 10 Blair Tickner, 11 Lockie Ferguson
Jacob Duffy is also a new-ball bowler and has played only two ODIs so far. He's a swing bowler and opens for Otago.
Rohit says they would have batted first! With the series in the bag, he would have put his team under challenging conditions of bowling under lights with the dew. He still wants to see what more they can get out of this game. Two changes: Shami and Siraj are out, Umran Malik and Chahal come in.
India: 1 Rohit Sharma (capt), 2 Shubman Gill, 3 Virat Kohli, 4 Ishan Kishan (wk), 5 Suryakumar Yadav, 6 Hardik Pandya, 7 Washington Sundar, 8 Shardul Thakur, 9 Kuldeep Yadav, 10 Yuzvendra Chahal, 11 Umran Malik
Som T: "Bad decision to leave out both Shami and Siraj. Who will bowl in the powerplay – Hardik and Umran. They will be hammered all around the park. Moreover, they will be bowling with the dew. Things not looking bright for a clean sweep."
Geetha: "Three spinners in Indore? And India is bowling second too. All good to experiment but this?"
Sushil: "Rohit says they would have batted first. So he remembered today team decision at toss"
Niranjan: "This is going to be the toughest for India without Shami and Siraj.."
India change their combination as well, playing with two frontline quicks, two spinners and two allrounders of which one bowls spin (Washington) and one fast (Hardik). Two new opening bowlers and Malik will have that responsibility for a change maybe.
Som: "I am still not sold to the idea of Lord Shardul Thakur over a genuine bowler. I am not sure if the 8th batsman serves much of a purpose in ODIs. If the wicket is flat and the spinners are not very effective, we need someone to knock out the opposition (read Umran Malik)." But that leaves you with a really long tail, from Nos. 8 to 11
JOYDEEP GILL: "How's the weather over there , is there rainy weather or warm." Deiva will answer that for you: The weather is nice and pleasant in Indore. It is likely to be fine for the duration of the game. There is some covering of grass near the middle of the pitch, but it will probably be another Indore belter. The ball was flying off the bat during the training sessions yesterday. It might be the same today as well.
12.50pm Team changes: the toss is 10 minutes away and unlike in Raipur, where both teams went unchanged, my guess is both teams will bring in some new players. Let's see if the wristspinners Chahal and Sodhi are fit, if quicks Umran Malik, Jacob Duffy or Doug Bracewell get a chance. Until then, you can read the preview here.
RajatMaheshwari: "India should go with the same XI to give these guys a long run and it looks a bit odd that this Indian team looks a well-oiled machinery barring wrapping up the tail, never losing a game considering there are few spots yet to be filled for the best XI and they haven't played much together particularly in this format. Hope Ishan and SKY comes out good and make a strong case for themselves before Iyer and KL comes in! In for a run-fest :)!"
Senthil Kumar R: "Should India try a new set of players today after the series win. I think batting line up is almost finalised. 4-2-1-4 set up "
12.42pm Deivarayan Muthu has gone from Hyderabad to Raipur and landed in Indore. And he chimes in straightaway: Washington Sundar is currently making his run-up. Yuzvendra Chahal, who had a shoulder complaint during the SL series and didn't bowl much at the nets ahead of the first two ODIs against NZ, had a longer stint at the Indore nets on the eve of the third ODI. At the NZ nets, Ish Sodhi is in action, and is looking in decent rhythm after having missed the first two ODIs in Hyderabad and Raipur with an ankle injury sustained in Karachi.
Lalit Jain: "India will have two changes today, I think so." It's possible, if Rohit can remember those changes.
Shubham Jain: "No description of Indore is complete without talking about its cleanliness." But someone explain to me why is the area around the train station always dirty. In all cities across India
12.35pm Have you ever been to Indore? On my first visit there, for the Ranji Trophy final in 2017-18, I was served poha by the hotel I was staying at five days in a row! But that was in stark contrast to the variety of food the city serves – right from Chhappan Dukaan to Sarafa Bazaar, a resplendent night market which serves the kind of food you can't even imagine. Like its food, Indore also serves runs to its visitors and hosts alike. In the last international game here, Rilee Rossouw hammered a 48-ball match-winning century for South Africa. This might be an ODI, a dead rubber, but runs will likely be served again. Hello and welcome to our coverage of the third ODI between India and New Zealand, I'm Vishal Dikshit, and we'll all be joined by Sidharth Monga soon.
#India #Zealand #3rd #ODI #Match #Details #Schedule #Summary